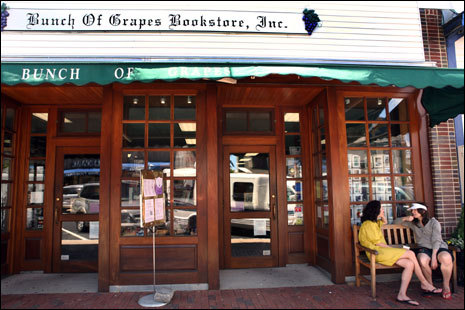 In his regular column for the
Century Foundation
,
Peter Osnos
provides commentary about several different topics as the foundation's senior fellow for media. Recently, he
opined on a fire
that devastated a bookstore in Vineyard Haven, Massachusetts, on Martha's Vineyard called the
Bunch of Grapes
. Let me rephrase that, he wasn't giving his opinion on the fire, he was lamenting the loss of yet another beloved bookstore — and offering his thoughts on ways to upgrade stores and avoid further losses.
While the Bunch of Grapes will likely be rebuilt, bookstores — even the megastores like Borders — are particularly vulnerable to the whims of the marketplace. Osnos has conducted a study of bookstores and offered his strategies. In a nutshell, it comes down to this: Customer service. People like it, and they expect it.
As Osnos explains, booksellers in stores tend to wait until the book is actually in hand before they accept cash or credit cards. So, if a book is out of stock, the store is out of luck. "Customers should never leave the store, having asked for something, without buying it, unless, of course, it can't be found anywhere," he writes. But people willingly click their code into the Amazon Website and wait for their books to arrive.
Taking that one step further, Osnos recommends that each bookstore upgrade their Website so people can buy things online.
Good advice. So too, his final paragraph: "What these ideas have in common is the notion of a bookstore as less a repository of goods on hand than a showroom of what's possible. The cozy familiarity of a good bookstore and the role these stores play as community assets are cherished by readers. Updated concepts of service and supply will reinforce those facts rather than diminish them. And in the meantime, for those great booksellers who cannot overcome their troubles, we will mourn your passing."