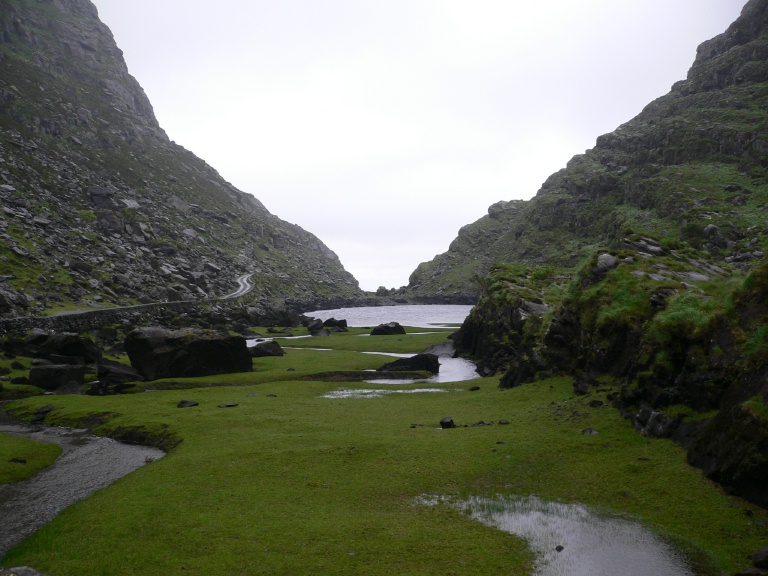 When I was in college, I studied for a semester in Dublin, Ireland, at
Trinity College
in a program run by the poet
Thomas Kinsella
. It was a good program in which I had classes taught by some prominent Irish scholars such as
Seamus Deane
(who I considered one of the most brilliant teachers I'd ever had),
Proinsias Mac Cana
,
Liam de Paor
, and, of course, Kinsella.
From them and others I learned a great deal about the development of Ireland from the pre-Celtic era through the Troubles that were quite in force while I was there. [As a side note, during a long trek across the country in the spring, our leaders -- Kinsella and de Paor -- debated whether to head into the North. A day before we were to head up, there'd been an explosion on one of the railways. Understandably and correctly, they decided not to send a group of American students in a bus marked 'Eirebus' into the North. We were disappointed, but I have no doubt it was the right decision.]
All that is meant as preface to describe the book I'm currently reading:
The Princes of Ireland: The Dublin Saga
by Edward Rutherford. It's historical fiction and the characters I've met so far (I'm about 270 pages into it; the book covers 770 pages) are all interesting and fairly well drawn. In short, I'm enjoying it and I'm happy I'm reading it. The history is good and appears accurate to my recollection. I'm happy to mentally pronounce words I've not seen in many years once again: Uishnech, Ath Cliath, Cuchullain.
Indeed, I'm enjoying the book. But there are times when I feel Rutherford could have used a better editor -- and it's distracting. Too many times he leaves a reader having to guess which person a pronoun refers to. Sentences jump from perspective to perspective within a paragraph. And the sentence structure is so plain as to be almost sleep-inducing. Thank God the characters are engaging, especially in the opening tale of Dierdre and Connall.
Theirs is a love story set in the pre-Christian fifth century. Christianity is a little-known religion of the British slaves that wealthy families own. Connal, the nephew of the High King, is torn between the life of a warrior and that of a druid. But everything changes after he meets Dierdre, the green-eyed daughter of Fergus, chief of Dubh Linn ('black pool' in Old Irish, pronounced Duv Lin). The lovers' escape from the High King and his wife -- who had threatened to kill Dierdre -- coincides with bad harvests. And in the pagan era, that's a political minefield for the king that requires a sacrifice.
All the ingredients are there for a wonderful tale, and it doesn't disappoint. In looking at a
2004 review
of the book in the
New York Times
, I certainly recognize the same book. Indeed, comments like "sprawling" and "easy to read" are entirely accurate. My gripes may be more a matter of my
literary snobbery
coming to the fore, once again.
My criticisms are not meant to discourage anyone from reading this engaging group of stories. Anyone with a love of Ireland would find it fascinating, whether you studied there or not. I just wish the book had been tightened up a little.