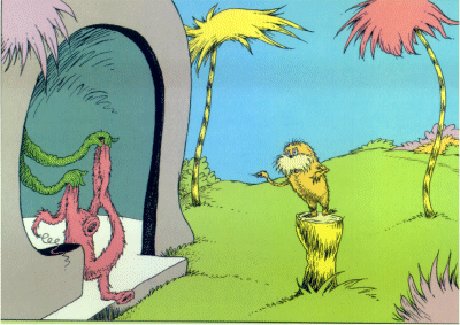 First off, I want to call attention to something that I'm somewhat proud of: This is my 100th post on this blog. Not a big deal in the grand scheme of things, I realize; some big blogs may reach 100 posts or more per day. But
The Elephant's Bookshelf
is a labor of love and found time. I love to read and to write, and I want to share my thoughts on writing with others. So, I'm happy to reach a random milestone.
Personal backslapping over.
Today, I happened upon
this piece
in the
Washington Post
. Apparently, Harry Potter
isn't the biggest thing
(PDF) since bread with the crusts cut off in the world of children's reading. While J.K. Rowling's justifiably popular series is still a huge best seller, Harry, Ron, Hermione and the rest of the Hogwarts contingent still can't hold a wand to the creatures of Dr. Seuss's imagination.
Also ahead of the Potter books was Harper Lee's classic
To Kill a Mockingbird
, proving that the list wasn't dominated merely by books most read by small children. Further emphasizing that point, the S.E. Hinton stories were also up among the top 10.
Weep not for the wizards and witches. The Potter books will stand the test of time. But it's nice to know that children still love to explore worlds of imagination that don't cause their thumbs to develop carpal tunnel syndrom.